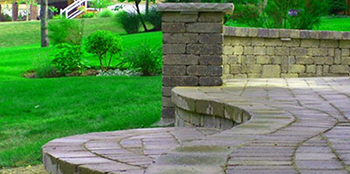 Patio Paver Installation Service
We use natural stone and manufactured patio pavers to create simple or elaborate residential or commercial patios. We follow or exceed guidelines set by the Interlocking Concrete Pavement Institute, (I.C.P.I.),and are certified by them as well. We most often install Unilock pavers but will installany manufacturer's product. We prefer to install Travertine or Marble as our natural stone, but have installed all types of natural stone patios.
Traditionally, we have installed soldier course and banding, as well as patio paver inlays to customize the patio and set it apart from any other in the area. We have added vertical elements to the patio to add beauty and functionality to the space. Seat walls, Fire Pits, Fire Places, Outdoor Living kitchens, and Water features have provided our customers with the outdoor living space of their dreams, while adding value to their homes.
Douds Brothers are an authorized dealer installer of Unilock and Techo-Bloc hardscaping products